HAND-ROLLED.
BOILED.
BAKED.
Feeding pick-me-up treats to Edmontonians since 2019
From the humble, no fuss plain bagel to the almighty chonk cookie, there's a tasty treat for everyone at Bagel Bar. We offer a selection of sweet and savoury bagels as well as cream cheese combinations and spice blends designed to elevate any mediocre meal into a mouthwatering feast.
Don't be fooled into thinking these are your run of the mill bagels. Oh no! We lovingly hand-roll, boil then bake our bagels to deliver the most satisfying, indulgent chew.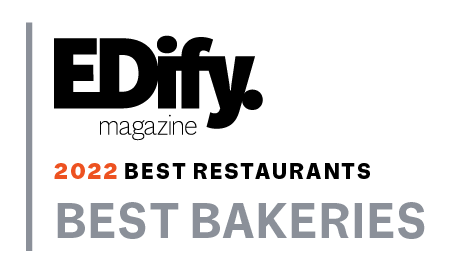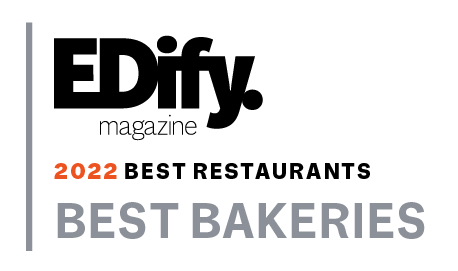 PLANNING AHEAD?
Order online and opt for either delivery to your door or contactless pick-up Wednesday – Saturday
DELIVER TO MY DOOR!
We offer our delivery service to Edmonton, St Albert and Sherwood Park between 9.30-13.30 Wednesday – Saturday.
I'LL PICKUP!
1. Bagel Bar, West door of Vienna Bakery 10207 63 Ave (Weds – Sat)
2. Sarah's Kitchen, St Albert (Thurs & Sat only)
3. Morning Brew, Sherwood Park (Thursdays only)
4. Meuwlys, 124th St (Fridays only)
5. Dark Kiss Coffee,  6420 50 St, Leduc (Fridays only)
LOOKING FOR A SAME DAY FIX?
For those who can't wait:
1. Simply call us on 587-987-9237 anytime between 8am – 11am, Wednesday – Saturday to reserve your order
2. Pay via the text link we send you
3. Pick up before noon at Bagel Bar 10207 63 Ave (find us at the door on the West side of the Vienna Bakery building)
4. Text us on arrival with your full name and we'll bring it out
MORE PLACES TO BAG A BAGEL
We've partnered with a handful of rockstar retailers to serve up selected Bagel Bar products. See below for more details:
– Credo Coffee, 10350-124 St, Edmonton: tuck into our bagels with cream cheese or as a breakfast sandwich
– Crum Coffee Bar, 4640 Calgary Trail NW, Edmonton: frozen savoury assorted packs are now available in the freezer
– Morning Brew, 3820 Sherwood Dr #280, Sherwood Park: Enjoy one of our bagels toasted with cream cheese.
– Sarah's Kitchen, 40 Bellerose Dr 105, St. Albert: every Thursday Sarah has a selection of bagels available to buy or enjoy as a sandwich
– Take Care Cafe, 9621 82 Av NW, Edmonton: you'll find a selection of Bagel Bar bagels, toasted with cream cheese
– Toast Culture, 1965 Jasper Ave, Edmonton: Enjoy a bagel benny or grab a 6-pack from the retail counter.
Here's what the hungry folk of Edmonton have to say about Bagel Bar: