HAND-ROLLED.
BOILED.
BAKED.
Baking happiness for Edmontonians since 2019.
These aren't your run of the mill bagels! We lovingly hand-roll, boil then bake our bagels to deliver the most satisfying, indulgent chew.
There's a tasty treat for everyone at Bagel Bar. We offer a selection of sweet and savoury bagels, cream cheese combinations and flavoured butters, designed to elevate any meal into a mouthwatering feast.
Don't forget to try our sister, chonk; Huge 6oz chonky cookies, deliciously soft on the inside with a crisp edge. Flavours are always rotating, check out our latest creations in-store or online!
Come and shop in-store, or pre-order online!
Bagel Bar & chonk Store
You can shop with us at 4823 99 St. No pre-order necessary, come on in and shop from our shelves. We carry flavours of bagel, cream cheese and chonk that are only available in-store.
Store hours are:
Wednesday, Thursday & Friday: 8.30am – 4pm*
Saturday: 9am – 3pm*
If you're collecting an online pre-order, it will be available for pickup from the storefront after 9.30am on the day selected.
* unless we sell out earlier!
HOW ELSE CAN I BAG A BAGEL?
PLANNING AHEAD?
Order online and select either delivery to your door or pick-up Wednesday – Friday.
DELIVER TO MY DOOR!
We offer our delivery service to Edmonton, St Albert and Sherwood Park, Wednesday – Friday. (arrival between 9.30-13.30)
I'LL PICKUP! (full address details on 'order online' page)
1. Bagel Bar, 4823 99 St – Weds-Fri 9.30am-4pm
2. Morning Brew, Sherwood Park (Thursdays only)
3. Dark Kiss Coffee,  Leduc (Fridays only)
4. Play Cafe, Spruce Grove (bi-weekly Thursdays only)
5.BreadLove, St. Albert (Fridays only)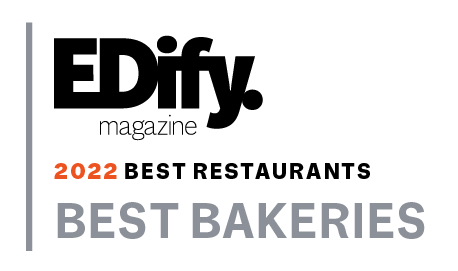 MORE PLACES TO BAG A BAGEL
We've partnered with a handful of rockstar retailers to serve up selected Bagel Bar products. See below for more details:
– Biera, 9570 96 ave, Edmonton. You'll find our everything bagels on Biera's delicious weekend brunch menu.
– Credo Coffee, 10350-124 St, Edmonton: tuck into our bagels with cream cheese or as a breakfast sandwich
– Crum Coffee Bar, 4640 Calgary Trail NW, Edmonton: frozen savoury assorted packs are now available in the freezer
– Dark Kiss Coffee, 6430 50 St, Leduc: enjoy our toasted Bagel Bar bagels, cream cheese and chonks
– Felice Cafe, 10930 84 St NW, Edmonton: you'll find a selection of Bagel Bar bagels and cream cheese to enjoy with your coffee
– Morning Brew, 3820 Sherwood Dr #280, Sherwood Park: Enjoy one of our bagels toasted with cream cheese.
– Play Cafe, 5 Spruce Village Way #130, Spruce Grove: you'll find a selection of Bagel Bar bagels, cream cheese and chonks to enjoy with your coffee
– Sorellina Coffee: Brew Bar, 10546 82 ave, Edmonton. Enjoy a toasted bagel and cream cheese along side Sorellina's house-roasted coffee.
– Take Care Cafe, 9621 82 Av NW, Edmonton: Enjoy a selection of Bagel Bar bagels, toasted with cream cheese as well as our lil' chonks baked fresh in-store
Here's what the hungry folk of Edmonton have to say about Bagel Bar: